Richland County Children Services posts annual report to the community online
April 2016
Richland County Children Services has posted its annual report to the community on the agency Web site.
The eight-page document looks back at the agency and community accomplishments during 2015 in terms of protecting local children and helping local families. It also looks ahead to the challenges we all face in 2016 and beyond.
The report also examines the agency's unaudited financial picture, showing RCCS lived within its means during 2015.
It also describes the agency's need for local foster families and also highlights the fact Richland County Children Services worked with the Probate Court to finalize 17 adoptions during 2015, one of the highest numbers in recent years.
Click here to read the annual report to the community.
====================================================
It is what is inside that counts when it comes to child safety
By Patricia Harrelson, MSSA, LISW-S
It's what's inside that counts when it comes to child safety.
A recent photograph in the Mansfield News Journal of a local kinship home exterior stirred some to ask about types of placements we utilize. This is not a fair assessment of the kinship environment, or of the kin themselves.
When Richland County Children Services considers placement of a child, agency caseworkers look at many safety factors – none of which involve the house's paint job.
We are more concerned about what's inside the home, including the love and care adults can provide for the child.
Our first goal is to find a way to keep a child safe at home. When that fails, we ask the Juvenile Court to allow us place the child elsewhere. There are also frequent court reviews when children are placed outside of a home. These cases also include Court Appointed Special Advocates (CASA) and/or Guardian ad Litem (GAL), local attorneys whose sole responsibility is to ensure the child's best interests are met.
In short, none of these decisions are made in a vacuum.
Our first placement option is always family – grandparents, aunts and uncles, adult siblings, or significant others. Kinship placements are better because youngsters go to live with people whom they already know. Only when that is not available do we look at foster homes.
Regardless of placement type, estimated value of the house plays no role. We expect the home to be maintained in a safe and sanitary condition. But we don't worry about quality of the lawn or freshness of the paint.
We spend far more time looking inside the house. Some things we consider during a home assessment include:
-- Are bleach, cleaning materials and other poisonous and flammable materials stored in a safe manner?
-- Is the home adequately heated, lighted and ventilated?
-- Does the home have a working bathroom and toilet facilities located within the home?
-- Does the home have working smoke alarms on each level?
-- Are all firearms inside the home stored in an inoperative condition in a locked area inaccessible to children?
-- Is there adequate and appropriate bedding for each child?
We talk to prospective caregivers, especially a kinship placement into an unlicensed home. Our foster parents earn a state license through a series of courses and undergoing a thorough home study and safety assessment. There are many criminal offenses that prohibit a foster parent license, but will not always prevent a kinship placement.
We ask hard questions of relatives and/or significant others. We ensure they can financially take on the burden of a new child. We examine physical and mental health, including alcohol and drug usage. We ask if they have prior childcare experience. We look for prior involvement with public agencies, including law enforcement. All adults living in the house must be interviewed and must submit to being fingerprinted.
After considering all of this, the caseworker will offer an opinion: Is this caretaker able and willing to provide adequate physical/emotional care of the child?
This home study, along with all other related documents, is submitted to the Juvenile Court for its usage in making a placement decision, along with the agency's recommendation.
Nowhere in the process do we look at the exterior paint job, lushness of the lawn or the whiteness of a picket fence.
Our focus is always on the inside of the house – focused primarily on the adults willing to take on the tough task of accepting a new child.
We operate under federal and state laws to work with a parent to get a child home as quickly as possible before exploring other options, such as legal placement or adoption by the caregiver.
We consider progress of parents working toward reunification. A problem with drugs, issues with past abuse or neglect, and difficulty in parenting, are all concerns we work on to advance a successful reunification.
It can be to kin and foster parents who generally provide good, solid homes for children. They get attached. We actually do, too. Recent events have been painful to our child welfare team here.
We understand this emotional process. Yet, we must provide parents or legal custodians a chance to get better and for children to return to their care.
(Patricia Harrelson is the executive director for Richland County Children Services.)
===========================================================================
Adoption month: Don't be fooled by adoption myths; every child deserves permament home
By Patty Harrelson
Every child deserves a permanent, loving family. That is a goal close to the heart for Richland County Children Services and all public child welfare agencies, made even more meaningful during National Adoption Month in November.
Yet today, there are more than 100,000 children in the United States in foster care still waiting to be adopted. Sadly, more than 20,000 children age out of that foster care system each year, reaching legal adulthood without being adopted into that forever family.
Richland County Children Services had 75 children in custody as of Nov. 15, including 12 in permanent custody waiting for adoption. Of those 12, only a sibling group of three children are without an identified adoptive home.
It's been a good year for adoptions for our agency, with 17 finalized so far in 2015. That is more than in recent years — eight in 2014, 14 in 2013, five in 2012 and nine in 2011. We are blessed to have great foster homes in this county, willing to serve as foster homes and also as foster-to-adopt homes. We always need more.
On this National Adoption Day (Nov. 21), we wanted to debunk a few popular myths some may have about the foster care and adoption process.
Myth: There's too much red tape and bureaucracy involved in adopting a child from foster care.
Fact: Congress streamlined the foster care adoption process through enactment of the Adoption and Safe Families Act of 1997. This law stipulates children in foster care who cannot be reunited with their birth parents are freed for adoption and placed with permanent families as quickly as possible.
Myth: Adoptive parents must be a modern version of Ozzie and Harriet.
Fact: Prospective adoptive parents do not have to be rich, married, own a home or be of a certain race or age to become an adoptive parent. (Nearly one-third of adoptions from foster care are by single parents.) In fact, families are as diverse as the children who are available for adoption. Patience, a good sense of humor, a love of children and the commitment to be a good parent are the most important characteristics.
Myth: State agencies may withhold information about a child's past in order to get that child placed with a family.
Fact: Richland County Children Services is legally required to provide full, factual information about a child to any potential adoptive parents. Our agency has a vested interest in ensuring parents have a positive experience with foster care adoption so they will continue to adopt and recommend others do the same. For children who have physical, emotional or behavioral problems, we seek to provide the most comprehensive post-adoptive services available to help the children transition into their new homes.
Myth: Families don't receive support after the adoption is finalized.
Fact: Financial assistance does not end with the child's placement or adoption. The vast majority of children adopted from foster care are eligible for federal or state subsidies that help offset both short-and long-term costs associated with post-adoption adjustments.
Myth: Children in foster care have too much "baggage."
Fact: This is perhaps the biggest myth of all. Children in foster care — just like all children — have enormous potential to thrive given love, patience and a stable environment. Just ask former U.S. Senator Ben "Nighthorse" Campbell, country music singer Faith Hill, NFL quarterback Dante Culpepper and former presidential candidate Rev. Jesse Jackson. They were all children adopted by caring adults.
Myth: It's too difficult to find information on how to adopt.
Fact: Richland County Children Services is ready and waiting to help those interested in becoming foster parents and/or adopting children. Call our agency at 419-774-4100 or visit our agency website, www.richlandcountychildrenservices.org.
Patricia Harrelson, MSSA, LISW-S, is the executive director for Richland County Children Services.
=========================================================================
Clarett message simple, profound at annual Spaghetti Bowl

Maurice Clarett delivered a simple, yet powerful, message to the community on Sunday at the second-annual Richland County Children Services Spaghetti Bowl.
The former Ohio State football All-American, whose own bad choices landed him in prison for a few years, spoke about the importance of making good decisions and of self-awareness.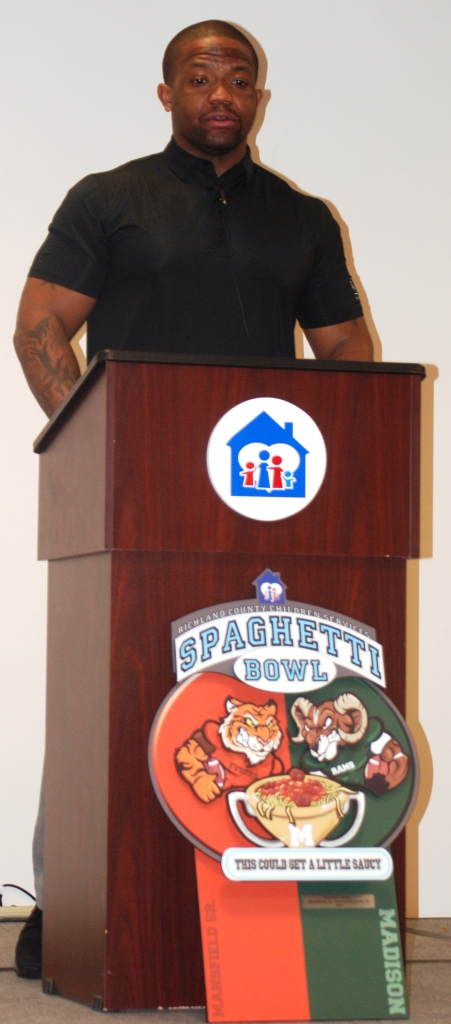 "You think that football is going to last forever, but that's not the truth of the matter," he said. "And if you're not prepared, at some point, life will come at you fast.
"You can be Mr. Everybody today, and when you can't serve your football team or you don't have an athletic ability to offer, life comes down to the skills you develop – and that's one thing I really want to get across to them."
Now 31 years old, Clarett rushed for 1,237 yards and 18 touchdowns in his freshman season, breaking the OSU freshman record despite missing three games because of injuries. He also marked the game-winning touchdown in double-overtime that sent OSU over Miami in 2002's national championship.
Following that season, he made a series of bad decisions that ended with him facing a 3½- year prison sentence for robbery and concealed weapons charges.
Since his release in 2010, Clarett, who is now a businessman, has worked to restore his reputation and is making a career being an inspirational speaker.
"There's a lot of good disciplines you learn from the game of football and athletics in general that you apply to your day-to-day living," Clarett said. "When I was in prison, I figured out how to apply some of the things I learned from sports to my life right now."
He added that "young guys" can never have too much encouragement.
Children Services, thanks in large part to our sponsors – Spitzer Motors of Mansfield, STARTEK, Ohio Health/MedCentral, Dolce's Tree Service, Gionino's Pizza and Sam's Club – was pleased to secure Clarett as the primary speaker at the second annual Spaghetti Bowl dinner on Sunday evening.
The dinner included local fans, players, coaches, cheerleaders and marching band members from Mansfield Senior and Madison Comprehensive high schools. The two rivals meet in their traditional regular-season finale on Frida at Arlin Field.
Proceeds from the dinner will go to charities selected by the two schools. Mansfield Senior selected the United Way of Richland County and Madison picked the Dave Thomas Foundation for Adoption.
The agency was also pleased to help arrange a second community appearance on Sunday by Clarett.
The agency approached local groups, including the Mansfield Police Department, about adding a daytime event with Mr. Clarett, expanding the opportunity for the community to hear his message.That event took place Sunday at Crossroads Church.
That event, "An Afternoon with Maurice Clarett: Voices against drugs and violence," was sponsored by the local group, We ACT, assisted by by the Mansfield Police Department, Crossroads, the Mansfield Urban Minority Alcoholism & Drug Abuse Outreach Program (UMADAOP) and the United Way of Richland County.
==============================================================
Former OSU star to speak at RCCS Spaghetti Bowl
Former Ohio State All-American football player Maurice Clarett will be the main speaker Oct. 25 during the second annual Richland County Children Services Spaghetti Bowl, a charity event that also helps to promote the cross-town rivalry game between Mansfield Senior and Madison.
Children Services made that announcement during a press conference Tuesday morning to kick off the annual charity dinner, proceeds from which go to charities designated by Mansfield Senior and MadisonComprehensive high schools.
Last year's game netted $3,125 with money going to the Dave Thomas Foundation for Adoption and the United Way of Richland County. Madison won that game, 21-14. Those same charities will be the beneficiaries this year with Mansfield Senior selecting United Way and Madison selecting the adoption organization.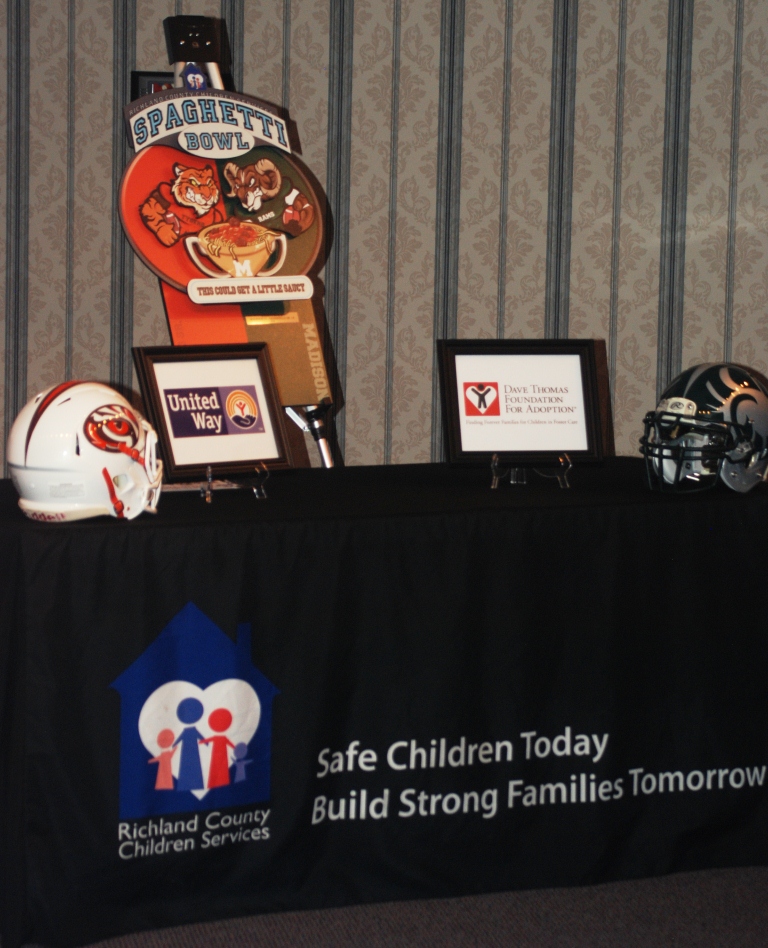 This year's dinner will be from 5 to 8 p.m. at the Mid-Ohio Conference Center on West Fourth Street, across the street from Arlin Field, where the Tygers and Rams will meet five days later in the final regular season game for both schools.
Clarett, now 31, is certainly no stranger to big games, scoring the winning touchdown in a double overtime national championship win for OSU over the Miami Hurricanes in 2002. In that initial season for the Buckeyes, Clarett rushed for 1,237 yards and 18 TDs, breaking the OSU freshman record set by Archie Griffin, despite missing three games due to injuries.
Unfortunately for Clarett and OSU, the Youngstown native then fell into a spiral of bad decisions that cost him continued success in football, ultimately earning him a three-and-a-half year prison sentence on robbery and concealed weapons charges.
While in prison, Clarett made the decision to change his life around. Since his release in 2010, Clarett has shown commitment to restoring his life and reputation, guided by morals and values of his Christian faith. He participated in the award-winning ESPN "30 for 30" documentary, the "Youngstown Boys."
Clarett is now a businessman and avid reader who has made a career of addressing groups across the country about self-awareness and making good choices. He had 90 speaking engagements last year alone to schools, sports teams, universities, churches and business organizations, sharing his story that it's never too late to the change the direction of their lives.
The pasta dinner will include players, coaches, cheerleaders and marching band members from both high schools. All tickets will be $10. Tickets may be purchased at Gionino's Pizza locations in Mansfield and Madison Township and at the United Way office in Mansfield.
Sponsors for this year's event include Spitzer Motors of Mansfield, StarTek, OhioHealth/MedCentral, Dolce's Tree Service and Sam's Club.
Click here to see a photo galley from the press conference announcing the event.
=======================================================================
State budget negatively impact public child welfare efforts
By Patty Harrelson, MSSA, LISW-S
The State of Ohio, already last in the United States for funding child protection, is about to take another step back.
County children services agencies, including Richland County Children Services, will lose $17 million over the next two years after the state's elimination of reimbursements for tangible personal property-tax revenue. This new loss is in addition to the $53.5 million child welfare agencies have lost since 2009.
Locally, RCCS received $684,373 in state TPP reimbursements in 2007. That was reduced by 46 percent by the end of 2014, down to $371,382 and is expected to decline to $143,188 in 2018.
Child-welfare advocates had asked lawmakers to boost state aid by $20 million a year to make up for years of reductions. The House-passed budget included an additional $600,000, but the Senate plan wiped that out.
While no one is accusing state leaders of balancing the budget on the backs of children and families in need, lawmakers are certainly making it tougher on local governments and local taxpayers to fund services necessary to protect our most vulnerable population.
The state decision comes at a time when Ohio's "rainy day" fund will be about $1.9 billion. While no one disputes the need to maintain a cash balance for times of emergency, we would argue it's raining hard right now on the state's children and families in need.
Richland County Children Services is blessed to have two local 1-mill property tax levies on the books. Those two levies combined to generate about $3 million in 2014. The agency also received $5.8 million in federal funds, a good portion of which was drawn down with the local tax dollars. Those federal funds are not guaranteed going forward as Congress continues to debate the future of child welfare reform.
But not all counties have that kind of support from local taxpayers. There is no local child welfare levy in 42 of Ohio's 88 counties, including Ashland, Morrow and Huron counties. Those counties rely heavily upon already strapped general fund budgets.
RCCS received $528,851 from state government in 2014 – less than 6 percent of the agency's total revenue. Around Ohio, state government provided 9 percent of total funding for child welfare. The national average is 43 percent. So it is clear child welfare agencies are not making unreasonable requests from lawmakers and Gov. John Kasich.
These new reductions across the state come at a difficult time as the growing need for child/family services, fueled in part by Ohio's growing opiate crisis, make it more difficult for caseworkers to find ways to keep children safe at home or to find safe, stable and permanent homes for kids.
Unbelievably, a spokesman for the majority Senate Republicans, said he was not familiar with the loss of TPP tax revenue. John Fortney told the Columbus Dispatch the Senate budget plan reduced state aid for child-protective services to the same level proposed by Gov. Kasich, who signed the budget into law on the final day of June.
"We're just now hearing about the $17 million loss from the tangible personal property tax and want to hear more about that because it would be a concern," Fortney told the Dispatch.
We suspect Mr. Fortney and his colleagues will hear a great deal about it going forward.
Child welfare agencies are grateful for lawmakers who helped to push for the needed additional funds, including Sen. Larry Obhof, whose district includes Richland, Ashland, Holmes and Medina counties; and Sen. David Burke, whose district includes Crawford, Marion, Morrow, Sandusky, Seneca, Union and Wyandot counties.
We hope those lawmakers and others will continue to work on a new vision for child protection, work with child welfare professionals to improve outcomes, and find ways to adequately fund the state's child protection system.
(Patty Harrelson is the executive director for Richland County Children Services.)
================================================================================
RCCS launches busy summer public events schedule
The first Mansfield Children's Festival and the annual Miss Ohio Parade on June 13-14 officially launched a busy summer events season for Richland County Children Services.
The agency will participate in many events in the next several weeks, including the Ontario 4th of July Festival and parade, Shelby Bicycle Days Festival and Parade, the Richland County Fair and the Bellville Street Fair.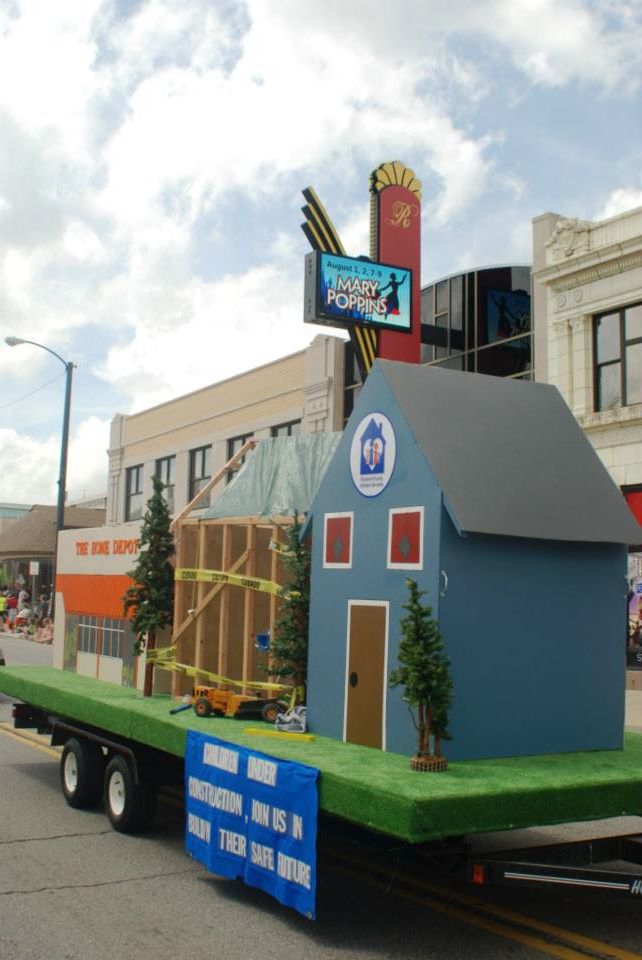 "Our agency gets such great support from the people and communities in Richland County," said Carl Hunnell, the agency's supervisor of public information and outreach. "Participating in community festivals, parades and events is one way we can show our gratitude for that support."
Here is a quick look at the agency's remaining summer events schedule:
June 20 -- Cruise-In, 1st Assembly of God Church
July 4 -- Ontario 4th of July Festival and parade
July 9-11 -- Shelby Bicycle Days and parade
July 25 -- Family Fun @ Sterkel
Aug. 9-15 -- Richland County Fair
Aug. 13-15 -- Lexington Senior Depot Rummage Sale
Aug. 15 -- Mend Mansfield Rally
Aug. 16 -- Lexington Blueberry Festival Parade
Sept. 16-19 -- Bellville Street Fair
Sept. 25 -- Fore Our Kids Golf Classic
===================================================================
Message is clear: NEVER shake a child!
By Patty Harrelson, MSSA, LISW-S
The pinwheel, an uplifting and enduring symbol of childhood, is often the centerpiece of the Richland County Children Services public awareness campaign during National Child Abuse Prevention Month in April.
The agency usually plants one pinwheel into the ground for each investigation into alleged child abuse and neglect the agency investigated the year before. For the last few years, this display has been on the front lawn of the Mansfield Area YMCA. In 2014, we investigated or assessed 2,118 cases of alleged maltreatment or families needing services.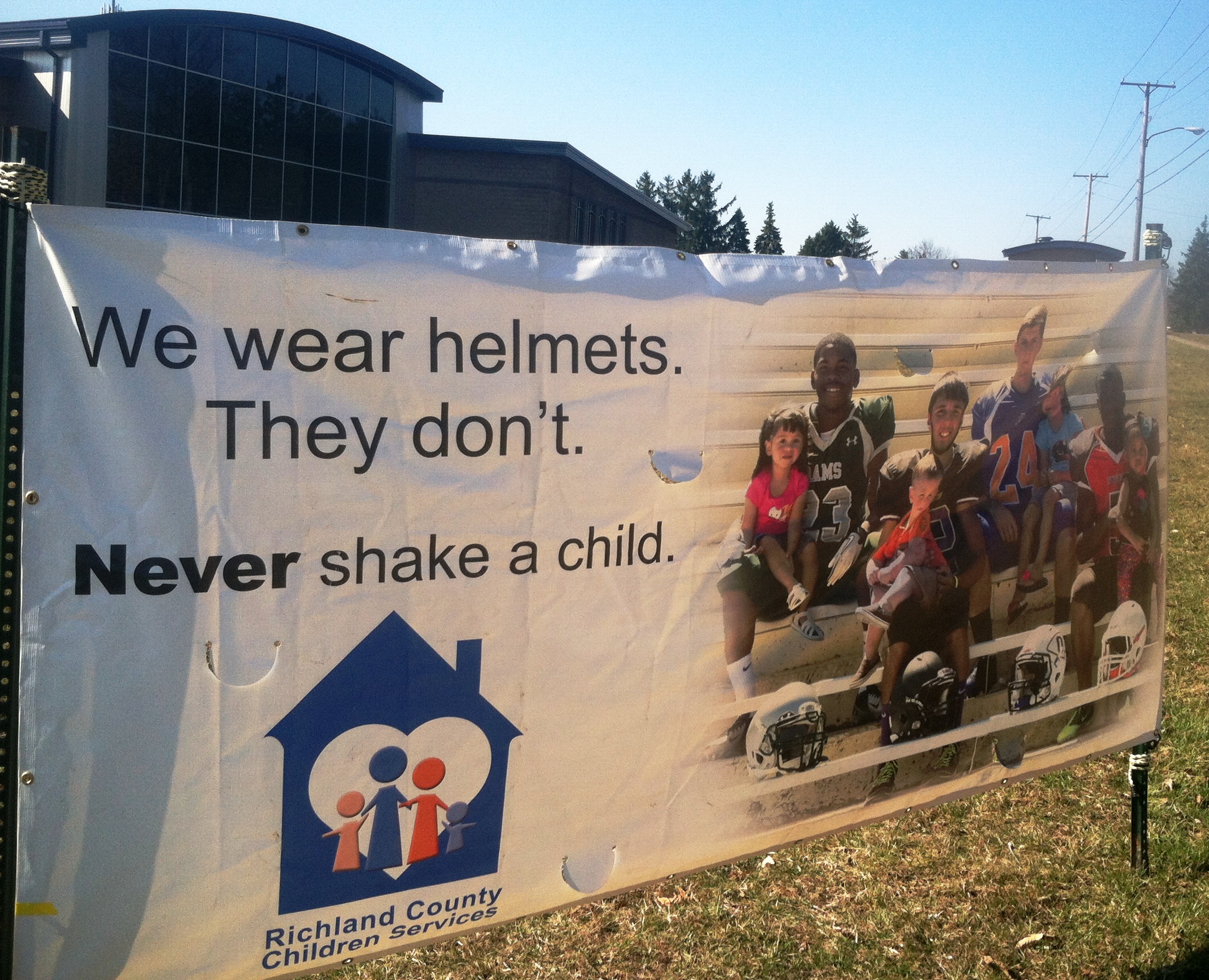 You won't see the pinwheels this year. This year, we are doing something different.
We are using our annual funds from the Ohio Children's Trust Fund to provide public education crucial to preventing child abuse.
The four, one-syllable words of this educational campaign impart a tremendously important message:
Never shake a child.
You will hear these words in our messages on local radio, TV and newspapers for Child Abuse Prevention Month. Our banners in front of the YMCA this month carry the message. We will use our agency Web site and Facebook page to deliver these messages, as well.
Never shake a child.

Shaken Baby Syndrome (SBS) a form of abusive head trauma (AHT) and inflicted traumatic brain injury (ITBI) is a completely preventable and severe form of physical child abuse. It results from violently shaking an infant by the shoulders, arms, or legs. In fact, children as old as four can be so severely shaken that it results in death or serious injury.
SBS may result from both shaking alone or from impact (with or without shaking). The resulting whiplash effect can cause bleeding within the brain or the eyes.
Nearly all victims of SBS suffer serious health consequences, including deafness, blindness and/or brain damage. At least one of every four babies who are violently shaken dies from this form of child abuse. Even those children who often do not appear to have initial serious injuries often have poor health and life outcomes. This is not just a criminal issue. It's a public health one.
We have already seen at least three instances of alleged SBS in Richland County this year, one of which resulted in the child's death. That's three too many.
So we believe this is a perfect opportunity to focus on this one crucial aspect of child abuse, rather than the usual pinwheel display.
Often, SBS occurs when a parent or caregiver becomes frustrated over a baby's crying. The fact is all babies cry. Some cry more than others. But when this frustration builds, it's time to step back, try to relax, take a break, phone a friend or relative, or call us at 419-774-4100 at any time of the day or night.
Most adults who admit to shaking a baby say they became frustrated and upset when the baby would not stop crying In addition to frustration, other contributors include stressful life events such as: becoming a new parent, financial strain and difficulty in work or family relationships.
While devastating, most people who shake a baby or young child do not intend to hurt or kill the child. They do not realize that their actions could cause harm.
It's ok to punch a pillow. It's ok to slam a door. Consider taking a break, reading a book, taking a walk or getting someone to relieve you, if only for a few moments.
Never shake a child.
We are not sure what the future holds for the pinwheels in this community. Many of my fellow county directors have also stopped recounting actual cases in this annual event and put these funds directly toward primary prevention. We generally do not receive funding for these types of activities and our work is; by law, largely directed at post incident responses.
So, this year at least; I am opting for primary prevention and a direct and clear message on this serious issue. The pinwheels do provide a powerful message to our community. However, we believe our message this year is more powerful and may help save the life of a child.
Never shake a child.

(Patty Harrelson is the executive director of Richland County Children Services.)
=====================================================================
Family engagement aim of Richland County Children Services pilot program
Child welfare is moving more and more toward family engagement.
With that in mind, Richland County Children Services is part of a pilot program seeking to identify families who have successfully completed case plans with the agency and partner them with families who are struggling.
The local program — a spin-off of the national Primary Parent Partner Program — is called HOPE, short for Helping Ohio Parent Effectively. Richland, Cuyahoga and Trumbull counties are the three taking part in the state initiative.
"We're kind of the guinea pigs in this," said Tim Harless, program director of external affairs at Children Services.
Harless said the three counties will share their experiences. He would like to see the program expand to all 88 counties.
With families who are struggling, Children Services hosts team meetings
"We ask families to bring support people with them, but we struggle with getting them to do that," Harless said.
Harless said he is hopeful the families will bring their mentors from the HOPE program.
The program director of external affairs also plans to use the new initiative as a training program for staff, a chance for employees to listen to feedback.
So far, six families have expressed interest in being mentors. They will receive small stipends, such as Wal-Mart gift cards or gas vouchers.
Prospective families and community providers will undergo three days of training early next month.
Harless said families who are struggling with their case plans might be more receptive to working with mentors rather than agency employees.
Children Services has property on Fourth Street that will serve as an additional space for the agency to conduct family team meetings. Some family team meetings will be held at the agency as well.
The local initiative is made possible through a grant. The Ohio Department of Job and Family Services is the lead agency. Casey Family Programs and the Public Children Services Association of Ohio are part of the leadership team to give guidance to the three pilot counties.
(The above story was written by Mansfield News Journal reporter Mark Caudill and published recently in the newspaper and its online site.)
========================================================================
Click here to visit the Richland County Children Services Facebook page.
3 tips for new foster-adoptive parents
4/25/2016
The Huffington Post recently published a column by a faily new foster parent. It offered three pieces of advice for those starting the process to become a foster parent.