Richland County Children Services plans replacement tax levy for November ballot
May 16, 2013
Richland County commissioners today approved a Children Services request to take the first steps necessary to place a 1 Mill, 10-year replacement levy on the November general election ballot.
The levy would replace a 1 Mill levy initially approved in 1984 and renewed by voters in 1994 and 2004. If the issue is approved, collection on the replacement would not begin until January 2015 when the current levy expires.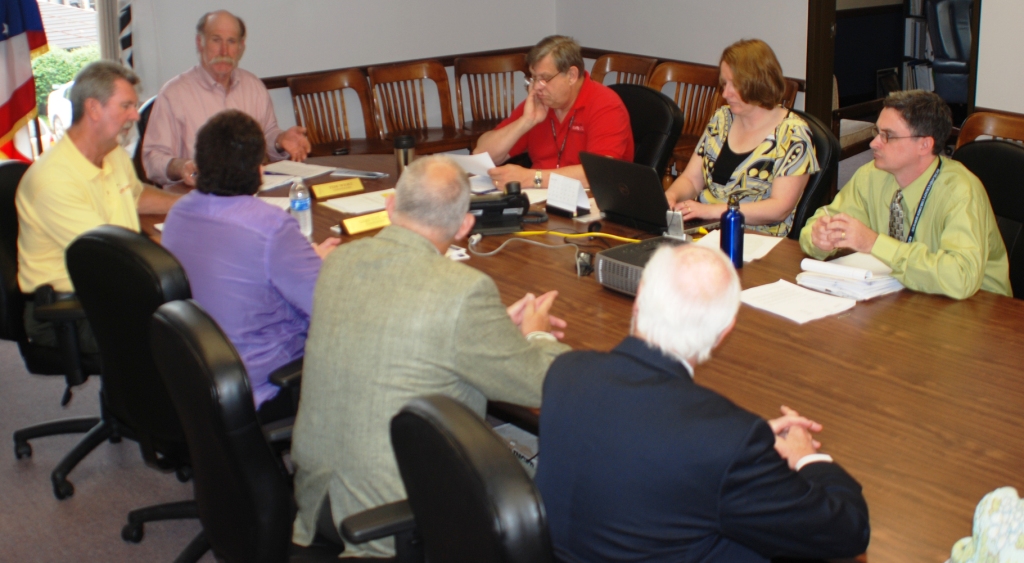 (Click here to see a complete fact sheet on the 2013 levy.)
Richland County Children Services has not received any new local funds since 1999, when the agency's other 1 Mill, 10-year levy was replaced. It was renewed by voters in 2008, and went into effect in 2009.
Children Services currently collects the equivalent of 1.37 Mills total on the two 1 Mill levies since they are based on property values at the time of voter approval.
The replacement ballot on the November ballot would simply update the 1984 levy to current property values.
"It would result in additional funds based on these property tax value changes," RCCS Executive Director Patty Harrelson told commissioners during a meeting this morning.
The levy will generate roughly: $1.9 million dollars per year before auditor or treasurer fees and without considering delinquencies, but the final amount remains to be certified, Harrelson said.
Ohio is last in the United States in the state's share of child welfare funding, leaving local counties responsible for a significant portion of this funding.
In counties without local levies (approximately 43), this burden falls largely to the county's general revenue fund. Local levies generate about 35 percent of Richland County Children Services funds.
The bulk of its revenue (58 percent) comes from the federal government while the state picks up about 7 percent. RCCS does not take money from the county's general fund, except for vehicle, property and liability
=============================================================
Richland County Children Services honors foster parents with annual appreciation dinner
Richland County Children Services honored its foster parents May 3 during the agency's annual Foster Parent Appreciation Dinner.
This year's event was in the Kobacker Room at the Cafe on Main in downtown Mansfield. Agency Executive Director Patty Harrelson was the evening's primary speaker.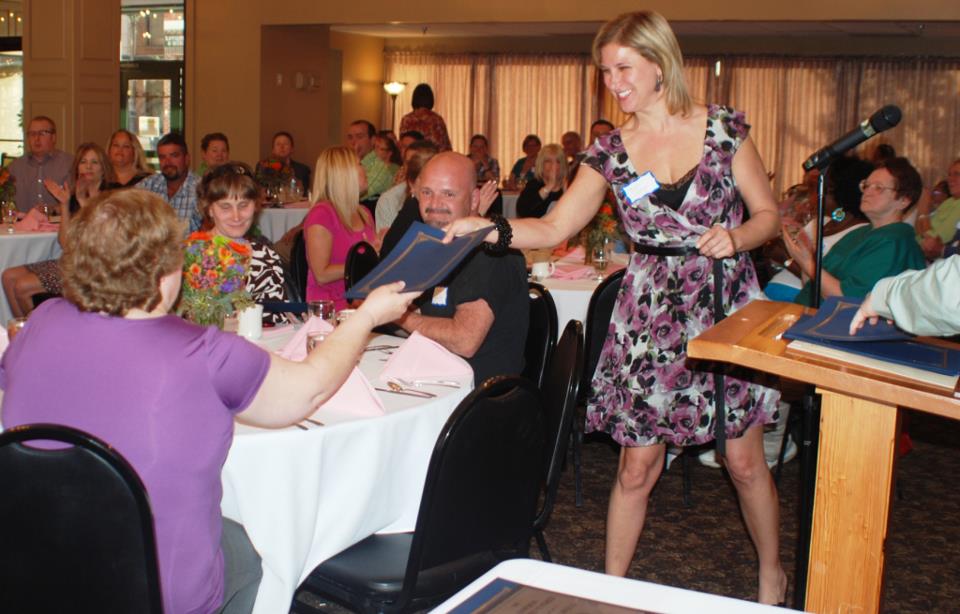 In addition to dinner, foster parents received awards for years of service and door prizes. Agency employees provided daycare services for the foster parents' children during the evening.
Each May, National Foster Care Month provides an opportunity to shine a light on the experiences of the more than 380,000 children and youth under 18 in the foster care system. The campaign raises awareness about the urgent needs of these young people and encourages citizens from every walk of life to get involved – as foster or adoptive parents, volunteers, mentors, employers or in other ways.
With the help of dedicated people, many formerly abused or neglected children and teens will either reunite safely with their parents, be cared for by relatives or be adopted by loving families.
Thanks to the many advocates, child welfare professionals, elected officials and support groups around the country, the total number of children in foster care has decreased over recent years. But more help is needed. If you are interested in learning more about foster care and adoption opportunities in Richland County, please click here.
Click here to view a photo gallery from the 2013 Foster Parent Appreciation Dinner.
=================================================================
Wear Blue Day tremendous success for Richland County
It was truly "Wear Blue Day" in Richland County on April 10.
Richland County Children Services led a community wide effort to call public attention to the problems of child abuse and neglect locally by participating in the second annual statewide effort.
The day included a community rally at Graham Automall, but included the participation by many local agencies and organizations, each of whom saw employees wear blue in support of local children and families.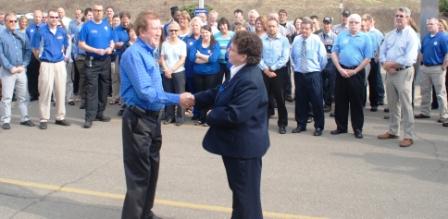 "It was very rewarding to see so many people in blue on Wednesday and to witness the support for Richland County's children and families," agency communications supervisor Carl Hunnell said. "We had a great really at Graham Automall and we can't thank enough Doc Stumbo and the wonderful people at Graham for putting on that event."
"Wear Blue Day" is just one of the events the agency is staging during April, which is national Child Abuse Prevention Month. Last week, the agency planted and dedicated its annual "Pinwheels for Prevention" display outside of the Mansfield Area YMCA; received proclamations from Richland County Commissioners and the mayors of Mansfield and Lexington; participated in a pinwheels planting at the Mansfield Correctional Institution; participated in an event at St. Peter's High School; and staged its 10th annual 24-hour Swim/Bike/Run at the Mansfield Area YMCA.
"The assistance, participation and cooperation we have received this month is tremendous," Hunnell said. "Our mission at Children Services is to keep local children safe and strengthen families -- but we cannot accomplish our mission without the assistance from so many local people, agencies and organizations."
======================================================================
Check out the 2013 Pinwheels for Prevention planting effort.
Check out the 2012 Mansfield Holiday Parade photo gallery.
Check out the 2012 Mansfield Halloween Parade photo gallery.
Check out the 2012 5K Run/Walk for Safe Kids photo gallery.
Check out the 2012 Pre-Game Pasta Dinner themed baskets for auction in a new photo gallery.
Check out the 2012 Richland County Fair photo gallery.