RCCS launches busy summer public events schedule
June 2015
The first Mansfield Children's Festival and the annual Miss Ohio Parade on June 13-14 officially launched a busy summer events season for Richland County Children Services.
The agency will participate in many events in the next several weeks, including the Ontario 4th of July Festival and parade, Shelby Bicycle Days Festival and Parade, the Richland County Fair and the Bellville Street Fair.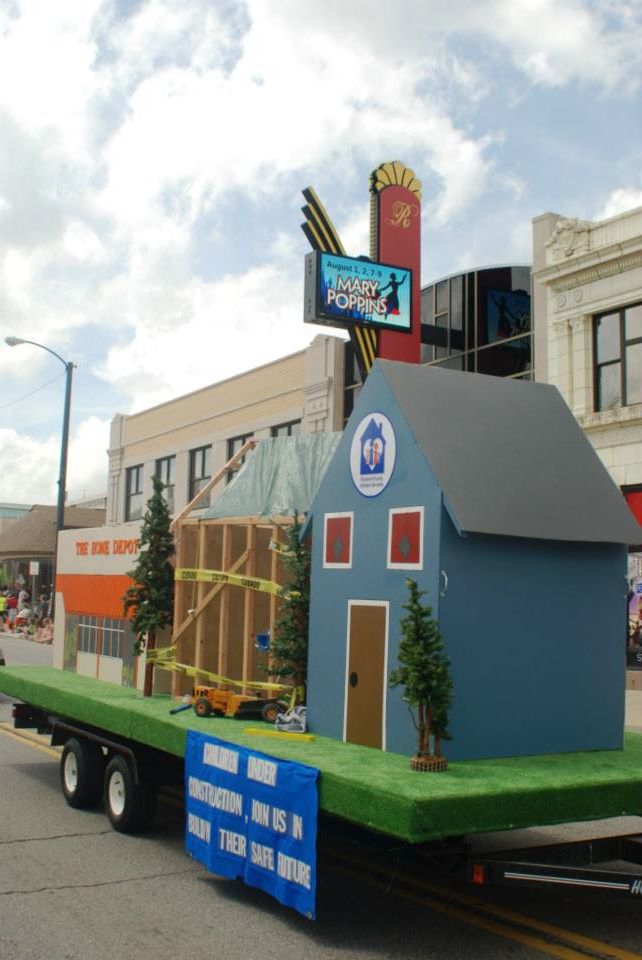 "Our agency gets such great support from the people and communities in Richland County," said Carl Hunnell, the agency's supervisor of public information and outreach. "Participating in community festivals, parades and events is one way we can show our gratitude for that support."
Here is a quick look at the agency's remaining summer events schedule:
June 20 -- Cruise-In, 1st Assembly of God Church
July 4 -- Ontario 4th of July Festival and parade
July 9-11 -- Shelby Bicycle Days and parade
July 25 -- Family Fun @ Sterkel
Aug. 9-15 -- Richland County Fair
Aug. 13-15 -- Lexington Senior Depot Rummage Sale
Aug. 15 -- Mend Mansfield Rally
Aug. 16 -- Lexington Blueberry Festival Parade
Sept. 16-19 -- Bellville Street Fair
Sept. 25 -- Fore Our Kids Golf Classic
===================================================================
Message is clear: NEVER shake a child!
By Patty Harrelson, MSSA, LISW-S
The pinwheel, an uplifting and enduring symbol of childhood, is often the centerpiece of the Richland County Children Services public awareness campaign during National Child Abuse Prevention Month in April.
The agency usually plants one pinwheel into the ground for each investigation into alleged child abuse and neglect the agency investigated the year before. For the last few years, this display has been on the front lawn of the Mansfield Area YMCA. In 2014, we investigated or assessed 2,118 cases of alleged maltreatment or families needing services.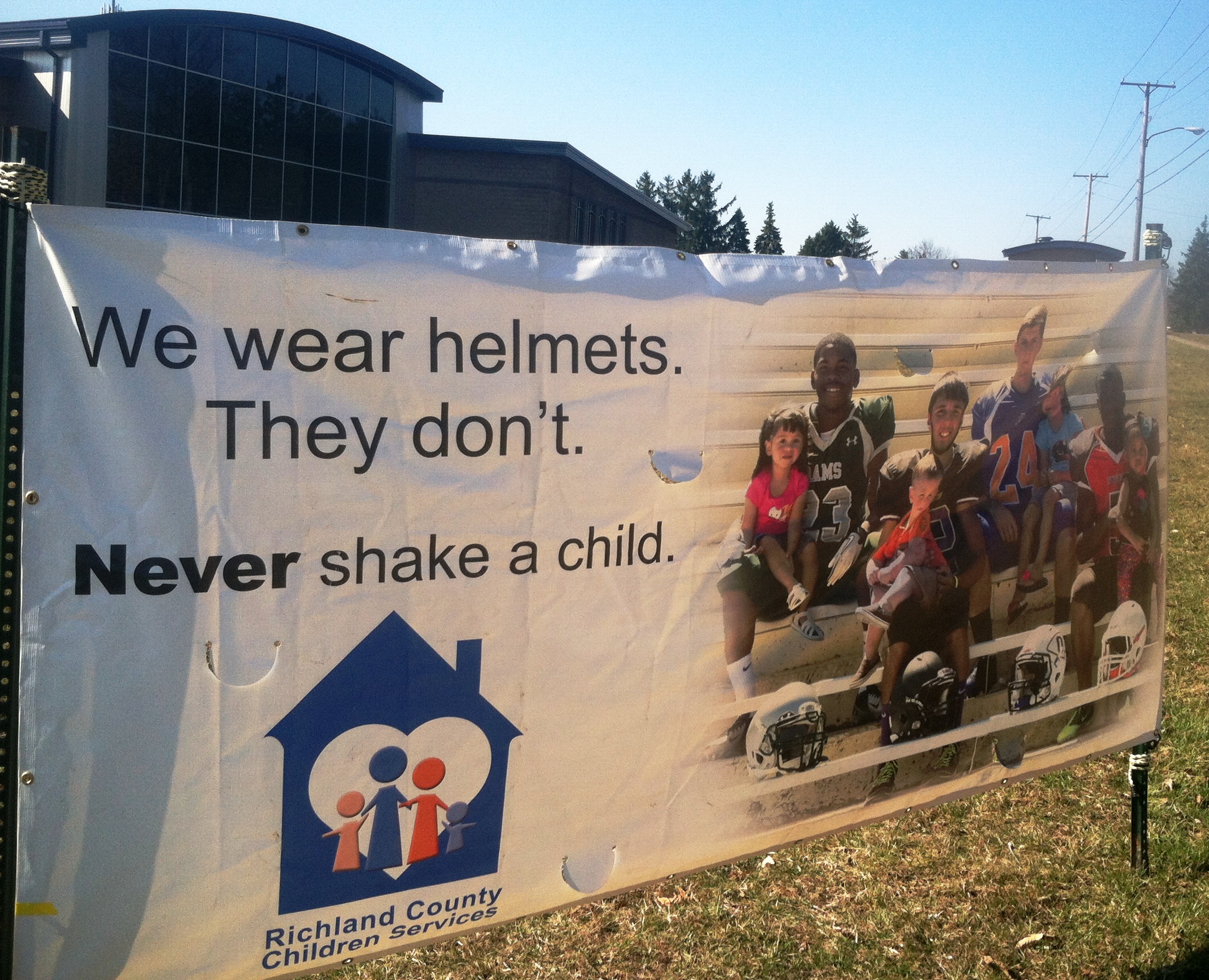 You won't see the pinwheels this year. This year, we are doing something different.
We are using our annual funds from the Ohio Children's Trust Fund to provide public education crucial to preventing child abuse.
The four, one-syllable words of this educational campaign impart a tremendously important message:
Never shake a child.
You will hear these words in our messages on local radio, TV and newspapers for Child Abuse Prevention Month. Our banners in front of the YMCA this month carry the message. We will use our agency Web site and Facebook page to deliver these messages, as well.
Never shake a child.

Shaken Baby Syndrome (SBS) a form of abusive head trauma (AHT) and inflicted traumatic brain injury (ITBI) is a completely preventable and severe form of physical child abuse. It results from violently shaking an infant by the shoulders, arms, or legs. In fact, children as old as four can be so severely shaken that it results in death or serious injury.
SBS may result from both shaking alone or from impact (with or without shaking). The resulting whiplash effect can cause bleeding within the brain or the eyes.
Nearly all victims of SBS suffer serious health consequences, including deafness, blindness and/or brain damage. At least one of every four babies who are violently shaken dies from this form of child abuse. Even those children who often do not appear to have initial serious injuries often have poor health and life outcomes. This is not just a criminal issue. It's a public health one.
We have already seen at least three instances of alleged SBS in Richland County this year, one of which resulted in the child's death. That's three too many.
So we believe this is a perfect opportunity to focus on this one crucial aspect of child abuse, rather than the usual pinwheel display.
Often, SBS occurs when a parent or caregiver becomes frustrated over a baby's crying. The fact is all babies cry. Some cry more than others. But when this frustration builds, it's time to step back, try to relax, take a break, phone a friend or relative, or call us at 419-774-4100 at any time of the day or night.
Most adults who admit to shaking a baby say they became frustrated and upset when the baby would not stop crying In addition to frustration, other contributors include stressful life events such as: becoming a new parent, financial strain and difficulty in work or family relationships.
While devastating, most people who shake a baby or young child do not intend to hurt or kill the child. They do not realize that their actions could cause harm.
It's ok to punch a pillow. It's ok to slam a door. Consider taking a break, reading a book, taking a walk or getting someone to relieve you, if only for a few moments.
Never shake a child.
We are not sure what the future holds for the pinwheels in this community. Many of my fellow county directors have also stopped recounting actual cases in this annual event and put these funds directly toward primary prevention. We generally do not receive funding for these types of activities and our work is; by law, largely directed at post incident responses.
So, this year at least; I am opting for primary prevention and a direct and clear message on this serious issue. The pinwheels do provide a powerful message to our community. However, we believe our message this year is more powerful and may help save the life of a child.
Never shake a child.

(Patty Harrelson is the executive director of Richland County Children Services.)
=====================================================================
Family engagement aim of Richland County Children Services pilot program
Child welfare is moving more and more toward family engagement.
With that in mind, Richland County Children Services is part of a pilot program seeking to identify families who have successfully completed case plans with the agency and partner them with families who are struggling.
The local program — a spin-off of the national Primary Parent Partner Program — is called HOPE, short for Helping Ohio Parent Effectively. Richland, Cuyahoga and Trumbull counties are the three taking part in the state initiative.
"We're kind of the guinea pigs in this," said Tim Harless, program director of external affairs at Children Services.
Harless said the three counties will share their experiences. He would like to see the program expand to all 88 counties.
With families who are struggling, Children Services hosts team meetings
"We ask families to bring support people with them, but we struggle with getting them to do that," Harless said.
Harless said he is hopeful the families will bring their mentors from the HOPE program.
The program director of external affairs also plans to use the new initiative as a training program for staff, a chance for employees to listen to feedback.
So far, six families have expressed interest in being mentors. They will receive small stipends, such as Wal-Mart gift cards or gas vouchers.
Prospective families and community providers will undergo three days of training early next month.
Harless said families who are struggling with their case plans might be more receptive to working with mentors rather than agency employees.
Children Services has property on Fourth Street that will serve as an additional space for the agency to conduct family team meetings. Some family team meetings will be held at the agency as well.
The local initiative is made possible through a grant. The Ohio Department of Job and Family Services is the lead agency. Casey Family Programs and the Public Children Services Association of Ohio are part of the leadership team to give guidance to the three pilot counties.
(The above story was written by Mansfield News Journal reporter Mark Caudill and published recently in the newspaper and its online site.)
========================================================================
Click here to visit the Richland County Children Services Facebook page.